As a young graduate, engineer Sam Matti had a seemingly promising role at a Baghdad power station – until a personally targeted death threat from the Islamic State terror group (ISIS) tucked under the windscreen wiper of his car forced him to flee.
Today, Matti is a Senior Project Manager at GHD and Site Access Lead on Melbourne's North East Link Project.
However, like many migrant engineers, he has had to overcome significant barriers along the way to employment in his chosen profession.
In October 2012, Matti was a site engineer at Baghdad's Al-Dora Power Plant. The role drew on his freshly minted degree from Russia's Don State Technical University, his cross-cultural skills and his fluency in five languages. He was the perfect middleman between Russian power plant managers and his fellow Iraqi engineers.
But the job only lasted 13 months.
"I received a personally targeted death threat. My car was vandalised. An envelope on the windscreen contained a letter that said I could pay US$40,000 and leave my job, and live, or I would be killed," Matti recalled.
"I'm an Assyrian Christian and I worked with people ISIS referred to as 'infidel Russians', so it was a double strike."
With his parents, he fled to Turkey the next morning, taking only a few possessions and leaving behind his job, his home, his friends and his country, most likely forever.
He spent four long years working outside the profession — in construction in Turkey and, in Australia, as a catering assistant, an interpreter and community volunteer.
Matti had lost all faith he would ever find appropriate professional work again before landing a 12-week internship with GHD in 2017 via a CareerSeekers program that supports refugees and asylum seekers.
The internship led to a contract role and then ongoing work, all with GHD, where he still works today.
"Being displaced is a terrible thing," Matti said. "If we give people opportunities to prove themselves then they absolutely will. That's very good for them, and very good for the business that had faith in them."
With an emerging engineering skills shortage exacerbated by COVID-19, an engineering job vacancy rate that has gone up 97 per cent in just 12 months, and an economic recovery hinging on major infrastructure projects, the effective use of all available engineers could be considered a national strategic imperative.
"Most of the engineers working in the profession in Australia today were born overseas — 51.1 per cent. And 58.5 per cent of qualified engineers in Australia are migrants, going on Census data," said Justine Romanis, Engineers Australia's National Manager, Professional Diversity and STEM.
"Overseas-born engineers have a higher unemployment and significantly higher underemployment rate compared to locally born engineers. And overseas-born female engineers have almost three times the unemployment rate of Australian-born female engineers."
Engineers Australia has publicly called for an overhaul of the skilled migration system, and given voice to these issues in a March 2021 submission to the Federal Joint Standing Committee on Migration inquiry, as well as in its evidence to the committee.
The peak body's submission referred to an "inefficient utilisation of migrant engineers", which sees qualified professionals more likely to work in "non-engineering roles".
In other words, there are smart, skilled engineering professionals driving taxis and delivering takeaway while they struggle to crack the Australian jobs market — at a time when employers are reporting skills shortages.
To better understand the barriers to employment of migrant engineers, and to help develop vital solutions and help employers access this talent pool, Engineers Australia recently commissioned research.
The first phase of the project involved surveying more than 800 migrant engineers and conducting in-depth interviews with employers and recruiters, as well as migrants. It found that the biggest barriers to employment for migrant engineers are associated with "local". Whether it's experience, networks, standards, references or qualifications, the top five obstacles identified by migrant engineers are all to do with not being a local.

Other issues include visa conditions that preclude migrants from moving to areas with more opportunities and jobs requiring an Australian security clearance or citizenship.
According to the research, Matti's experience of taking a long time to find engineering work, and of falling away from the profession as a result, is common. In addition, one in three respondents (34%) with engineering jobs feel, based on their experience, that they should be in a more senior role.
Respondents report their international experience is simply not valued in Australia. This speaks to subconscious and conscious biases amongst hiring managers.
One recruiter told the research team: "I'll get clients that tell me, 'no Indians'. They put it on the recruiter as they can't write it themselves." Another advises migrant engineers to anglicise their name on their CV to get interviews.
Employers saw migrant engineers without local experience as more of a risk. Hiring managers could not "ask around" to get someone to vouch for the applicants. Many expected migrants to go initially into more junior roles, which have greater supervision, to gain local experience before being promoted.
Other employer concerns included the amount of time it would take to bring an applicant up to speed, English skills, visa complexities and cost, quality of certifications, and the risk the person might need to return overseas for family reasons.
At senior levels, an applicant's inability to bring a network of suppliers to roles was raised with researchers.
"All employers want someone who's worked for the competition and, unfortunately, that's not these guys," is the way one employer summed it up.
Migrant engineers, on the other hand, view their unique knowledge as an asset that allows them to provide a valuable skillset and fresh perspective on a project or within a business — including experience where overseas practice is ahead of Australia or projects are larger in scale.
Engineers Australia recognises the importance of improving pathways into the profession for migrant engineers.
"We absolutely value the importance of getting this right from a personal, professional and national perspective," said Engineers Australia CEO Dr Bronwyn Evans AM HonFIEAust CPEng. "Productive employment of migrant engineers is vital to our national engineering capability.
"There is a serious mismatch between the objectives of the skilled migration program and what is being achieved in the community. Unless research is done and changes are made, we will continue to fail both migrants and employers, and put Australia's engineering capability and future economic growth at risk."
Engineers Australia has long been active in this arena, and its events, groups, webinars and other training opportunities offer opportunities to build local knowledge and networks, as well as contributing towards local credentials such as listing on the National Engineering Register and becoming Chartered.
One valuable resource is the Starting in the Australian Engineering Workplace online course, provided by Engineers Australia subsidiary Engineering Education Australia (EEA).
"We did some initial work with employers to identify where the issues are in terms of migrant engineers, and how we can help," said Alexandra Sparvell, EEA's General Manager. "The course is based on a virtual internship for international engineers we have been running for the past year as part of our Professional Year program. Over 180 engineers have been through it.
"The online course covers the Australian workplace in terms of ethical, legal, regulatory guidance; how to document your engineering workflow; what's expected in the Australian workplace; how people work; and much more. It is very valuable for migrant engineers."
Engineers Australia also runs local networking events and LinkedIn groups to help connect migrant engineers with employers, as well as webinars and information sessions to guide new migrants to useful resources.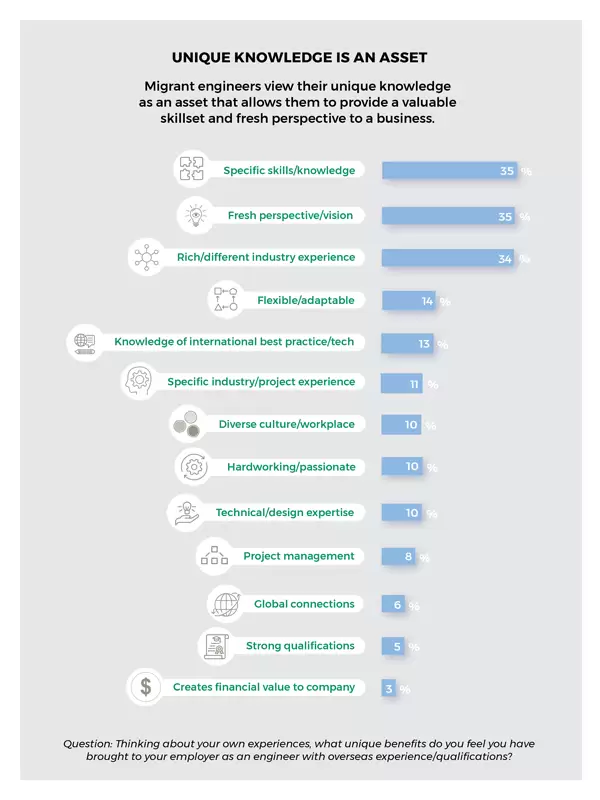 In some regions, Engineers Australia has worked with organisations to promote and create employment opportunities.
For example, in Newcastle, NSW, it has worked with a local group called Northern Settlement Services on its multicultural employment program. One of its Division Committee members ran a workshop with its clients to help them with resumes, cover letters, LinkedIn profiles and more.
In Western Australia, Engineers Australia supports the Kaleidoscope Initiative — which helps migrants find secure employment in their field of expertise — by finding mentors for migrant engineers.
But there is a recognition that many of these offerings are localised and require an individual to be part of a network before they hear about them. Solutions must be broader, more inclusive and supported by all stakeholders, including employers.
Obafemi Adio, Acciona's Quality and Completions Manager, has been directly involved in Engineers Australia presentations to help overseas-qualified engineers.
Having experienced the process of migration firsthand, after moving to Australia from Nigeria on a skilled migration visa, he is well placed to do so.
"I had to apply through Engineers Australia, and do an assessment," said Adio, who had six years of engineering experience at the time he applied for a visa.
"It involved submitting all of my degree qualifications and writing about my experience, what I'd done, and what my roles were."
That was 14 years ago. When he arrived, Adio still faced the challenge of finding work.
While Engineers Australia is empowered by the Federal Government to assess the skills of engineering professionals for skilled migration visas, it has no control over engineer migration numbers, visa eligibility criteria, visa restrictions or employer demand.
Jobs are far from guaranteed.
For Adio it meant more than simple financial security.
"I was also engaged to be married," he said. "To bring my fiancée over, I had to prove I could look after her. This meant a job and a place for us to live. So not only was I looking for a job, but I was trying to get my family started, as well."
Adio had a support network, of sorts. His sister lived in Australia with her husband.
"When I considered taking work outside of my training, they encouraged me against a rash decision," he said.
"They were both professionals and they knew the value of sticking with your training." 
For Adio, the wait was a relatively short one.
"An agency found work for me on Melbourne's EastLink project a month after I arrived," he said. 
It is a story with a happy ending: Adio is now happily married, employed, and an Australian citizen. But for many migrant engineers, the result is not so positive.
Everyone involved in the engineering sector has a role to play in ensuring the skills of migrant engineers are more fully harnessed. This includes Engineers Australia, universities, employers and recruiters.
It's essential for the nation's engineering capability.
"My question is this," Evans said.
"How can Engineers Australia work with industry to help address the skills shortage by enabling them to draw on this existing talent pool? With this research project, we're a lot closer to developing a clear answer. We want to work with employers to co-design solutions, because they will only be successful if employers embrace them. That's the next step."
Ishmeet Kaur, a Western Australia-based telecommunications engineer for Western Power, arrived from India in 2015. This is her story.
What brought you to Australia?
I did my bachelor's degree in India, then came to Australia to study my master's.
What challenges did you face?
I began looking for work six months before graduating and discovered universities in Australia lag other countries on this. In India, companies come to the colleges. But here, you need to apply for jobs. A graduate program will have a deadline eight months before the recruitment process, and often migrant students simply aren't told.
Could universities do better?
It felt as if universities in Australia don't take the initiative to help students find work. That should be a university's responsibility. They should conduct mandatory workshops, equip students with tools they need and make all opportunities clear. The college has a responsibility to invite companies into their recruitment process.
Where did you go for information?
All of my friends were from India — I didn't have an Aussie network. None of us had any information we needed. I started applying for jobs and going to careers events. I researched graduate programs, but they were for the next year. I frantically looked for work for over a year while I worked at Nando's.
How did you eventually find a job?
I went for an interview with APD Engineering in Perth and, at the time, I was even willing to work for free to gain work experience. But they instead offered me a one-year contract. I stayed with them for three years.
What can the profession do?
When people see fellow migrants working in odd jobs, it is very demotivating. Migrant engineers, and in fact all engineers, already established in their careers should take responsibility for mentoring, to make themselves more visible, to motivate younger engineers and to give back to the community.
Chris Sheedy is a professional writer whose work has taken him to the UK, USA, Europe and China. He has a fascination with big things – ideas, organisations, infrastructure, achievements, brands – and the people and processes required to make them a reality.
My experience has been that there is nonskills shortage, just an unwillingness to pay engineers a decent salary, so many engineers leave their profession. When we have unskilled personnel earning more than very bright, enthusiastic engineering graduates, we have a big problem. Fix this and there is no issue.
It is a valid comment. There are cases where a Cert IV or Diploma holder local is working as manager with some skilled, qualified and experienced migrant engineers working under him/her and certainly paid lesser as well.
Thanks Chris for highlighting this important concerns for migrant engineers. I have been in the country for over 6 months, yet to get an interview from an engineering company. Frequent mails I get "unlikely to progress"
Another "not publicly" said factor is racism. When I migrated to Australia in 2009 with 15 years of international experience (including 6 years with Swiss International Oragnisation" I was expecting open doors for employment. To face a year-long of no work the forced the family to take a very hard decision we still suffer from the implications till now. I was contacting companies who announce they have a shortage to offer my service for free, to get a rejection from the company engineers trying to put barriers in my way. One company said because my level in IELTest was 7.5, they require 8 to employ me. I took the challenge and requested a guarantee that if I redo the test and get the 8, I get employed. However, 12 years after and I still haven't received their answer.
One employment consultant met me to offer me some advice, and he state clearly that I have everything, however, my name was the obstacle for me to get a job. Because it is an Arabic name!
This is definitely not a new issue and certainly a challenge to have it improved. I'm a Chartered Engineer listed on NER and obtained my permanent residency. However, things do not get any easier to secure an engineering job. And the top five obstacles are spot on.
I know we always try to show the shiny picture, but in order to solve the problem, we have to look at the whole picture. Not only the shine part of it.
My comment was not published as I was speaking about the racism I faced as a migrant engineer during the start of my life in Australia.
The censuses in 2006, 2011 and 2016 all showed that the number of people reporting an engineering bachelor degree as their highest qualification significantly exceeded the number of people reporting working in a professional engineering role.
For those professional engineering roles that there are, bachelor qualified engineers face significant competition from those with a higher degree in engineering, as well as those with NO ENGINEERING QUALIFICATION AT ALL.
Between 2006 and 2011 the number of people reporting an engineering bachelor degree as their highest qualification grew by 30%. Virtually the same growth was recorded again between 2011 and 2016.
Between 2006 and 2011 the number of people reporting working in a professional engineering role also grew by 30%. Between 2011 and 2016 the number of people reporting working in a professional engineering role DID NOT CHANGE.
Even allowing for the 23.5% of engineering bachelor qualified people who indicated they were not working in 2016, there were twice as many engineering bachelor qualified people as their were people working in professional engineering roles.
For engineering bachelor qualified people of all sources in Australia, it is not simply a matter of 'working harder' to find a professional engineering role, those roles simply do not exist in Australia.
I am Chaminda migrated to Australia (Sydney) on the 12th April 2021. I am a Chartered Professional Engineer (CPEng) , MIEAust and NER. I have over 24 years experience in Civil Engineering, Contracts Management, Project Management & Procurement. Since my arrival here with my two daughters (my wife passed away last year due to a brain cancer) I am continuously applying for jobs and got four interviews only for the last six months. I am an MBA too and completed my PG(Diploma) in Construction Law and Dispute resolution too. In my last appointment as a Project Director of a USD 2.2 billion light rail project I served for 3 1/2 years and before that for a World Bank project as a Contracts Specialist for 5 years. When I apply for similar projects employers raise the issue of "No local Experience", when I applied for low profiles (Project Engineer etc) they directly say "You are over qualified". In my last project I managed the project with over 88 International experts. Until to date I am unemployed and living with the saving I brought. I am really dissaponinted having CPEng and struggling to secure a job here.
As a overseas engineer, it was hard for me to find the job when I came to this country 14 years ago. I applied for almost all low profile jobs in my profession. Overseas degree is not regionalized and it was hard to secure a job here. Luckily I got a job in a small engineering firm, with that experience I progressed into my career. Eventually I got my degree assessed and got the chartered status as well.
I suggest to my overseas friends, even if you get the PR, apply for jobs from overseas , move only if you get good response, interviews or job offer. Try to have a 2 months holiday come here and then understand the real situation before you move.
The experience of friends and colleagues would suggest systemic racism. This is, sadly, not surprising to many people of minority including women in engineering and other under-represented people. Industry leaders need to be proactive in living their stated values and providing opportunity for diverse engineers to meet that e.g. if equity, inclusion, global perspectives, diversity and cultural intelligence are so valuable, why is recruitment (of engineering work experience/ interns to professionlas) so homogeneously not reflecting these? Also, why does "engineer" always have a hard hat? this is a contributing to pipeline issues.
I am a professional engineer with over 16 years of post graduation work experience working for different sectors … However , for Aussi work place it's nothing , I am glad that EA and Chris have highlighted the issue , I wonder if you ( the system ) don't allow them to work in accordance with their experience and talent ,how over the period of time, they would not ( and are ) become a liability on Aussi Government … Time is now running out to make some sort of carrier pathway for migrating engineers which could train and track the progress made on this issue !
Happy to see the initial whistle been blown
Hi Chris, The Skilled Migration process is not the problem, it is the parochial attitude of the companies that needs to change, as they cannot see past their own nose, as highlighted in your article. Any migrant engineer will tell you the same thing as you have highlighted. Even with inside connections, as a CPEng, I was not able to enter the construction industry as Employers did not know any of the companies I had worked for, so I returned to the international market. There is no desire for companies to see the skills required to deliver in a different environment other than Australia. This is a consequence of the approach of Australian Companies towards risk – which is avoidance rather than management. There is no desire to bring in new ideas to an organisation only to repeat what is currently being done. A waste of a great resource.
I would like to share my experience here.
As an international student, I have studied Bachelor of Civil Engineering from Swinburne University of Technology. I graduated in 2020 when Covid came and I couldnt find any job at that time. This year I have been applying everywhere but I am still couldnt secure anything.
I am working as a Second Incharge in very busy medical centre hence I got all the skills that any engineer or any person in any field would require. Even doctors at my medical centre came to me and asked my question why you still couldn't find anything in engineering field? I told them everywhere it requires experience and they replied if no one gives you a job how wouls you have experience?
Everyone has appreciated my work and skills at my current job but I ask this quistion to myself, why I am still struggling to get engineering job? I would like to ask this question what could be the reason despite of having all the skills? Civil Engineering was and is my passion. I am even open to do volunteer work but why I am still struggling? Just because I am migrant?
I still don't have answer to this question.
A good article that also should question the bias of the recruiting teams. I have come across very poorly informed recruitment consultants who have no idea of the field of engineering. These gate keepers from various top recruitment companies tend to be basing their decisions on some pre-conceived notions and need to get an awareness course on the engineering profession. It will be interesting to take note of the experience of migrant engineers from Anglo saxanised countries and compare.
I, on the other hand, have worked for the last 3.5 years since graduating as an electronics engineer, have a full time contract, being approached by many companies for employment but can't get a permanent residency visa due to COVID-19.
You need security clearance to work this job. Ok how do i get security clearance? well you gotta be a PR/Citizen for that. How do i become PR/citizen? well you gotta have a job in your nominated occupation! who is hiring in those occupations? Primarily defense companies. what do they need? SECURITY CLEARANCE ! and thats the way it goes for migrant engineers. Im currently packing boxes in a chicken factory even though im qualified for engineering jobs.
Fun fact: I came here on a skilled visa which was aimed at attracting engineers for fulfilling engineer shortage. What a scam!
I, on the other hand, have worked for the last 3.5 years since graduating as an electronics engineer, have a full time contract, being approached by many companies for employment but can't get a permanent residency visa due to COVID-19.
I migrated to Australia in 2009. A 17 experienced sales engineer production processes with degree in mechanical engineering and business management. Registered with EA. Enrolled in skillmaxs program with a mentor. Had to quit this to start a job as labour to get food on table.
Got a 3 years short stint in setting up fabrication unit for a small company. That's the end, could not get in to engineering field after that. For the past six years, working as customer service agent. Completed certIV Procurement and Contracting last year with an anticipation of applying for procurement job.
I have local experience now. Would be glad to know if EA have any program to assist me to restart career in engineering related field.
Australian employers seem to be so arrogant and selfish. They do not care about all of your overseas achievements as if there is no other world but Australia. However, the projects myself and other migrant professionals dealt with before were much more massive and technologically complicated than you could find here. No local experience, no way to be employed. I moved here from Europe 3.5 years ago, used to work in few countries including Middle East and still getting regular job offers from overseas projects, used to have a very successful career and good income. But we could forget about it here as nobody acknowledges our previous attainments. The majority of my applications have been rejected and all those rare job interviews I have had are still unsuccessful without clear feedback, as the employers prefer someone else. I have been doing non-engineering work. I have CEng and RPEQ accreditations, but it does not add any value in job search. Even huge international companies like prefer people with a local experience for Australian positions. Simultaneously, the skilled engineers shortage has been declared.
Your email address will not be published. Required fields are marked *







WANT CREATE NEWS DELIVERED DIRECT TO YOUR INBOX? SUBSCRIBE TO OUR NEWSLETTER.
By subscribing to create you are also subscribing to Engineers Australia content.
Please find our Terms and conditions here

© 2022 Create.