By Mike McLeod
Median salaries and other key employment statistics forecast the shifting mechanical engineering employment landscape in Canada for the coming decade.
According to Engineers Canada's 2015 Labour Market Report – a biannual forecast characterizing supply and demand in engineering labour market – two major factors will dominate the employment landscape over the next 10 years. The first is the need to fill positions vacated by Baby Boomer engineers as they retire in the coming decade. The second is the progressive shift westward of economic activity, even given recent decline in oil prices.
These trends will have particular influence on mechanical engineers, the report says, driving up demand for new entrants and particularly internationally trained engineers seasoned enough to fill more senior rolls. In addition, the report foresees increased migration westward given projected rebounds in oil and other resource markets.
Compiled in partnership with the Centre for Spatial Economics, the report is based on occupation data collected from StatsCan's National Household Survey (NHS) and the Labour Force Survey (LFS) combined with economic projections and historic graduation/ immigration rates. Although the full Engineers Canada's report provides in-depth analysis of 14 engineering disciplines, data shown below pertains exclusively to mechanical engineering. The comprehensive report is freely available on the Engineers Canada website.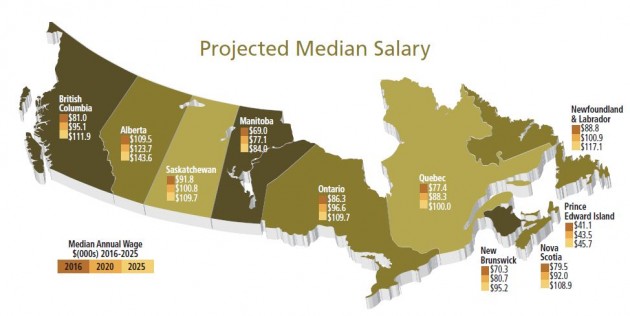 Compensation for mechanical engineers across Canada will rise steadily over the next decade, the report forecasts, with no major year-to-year ups or down anticipated. However, it does reveal that certain provinces presently pay, and will continue to pay, significantly more than others. Albertan mechanical engineers, for example, made nearly $20,000 more in 2015 than their colleagues in next highest paid provinces: Saskatchewan, Newfoundland & Labrador and Ontario.
Even with the sudden decrease in oil prices last year, the report predicts a resource rebound in the coming years, based on U.S. Energy Information Agency expectations, and therefore a steady demand for mechanical engineers in the western and resource dominant provinces. As a result, by 2025, the wage disparity will see the median annual pay of Alberta mechanical engineers grow to approximately $30,000 more than those in most other provinces.
That projected Alberta wage gap expands to $40,000 more than the median wage in Quebec and $60,000 more than Manitoban mechanical engineers. (The low median salary reported for Prince Edward Island is based on nearly zero employment of mechanical engineers there, the report says, and is therefore deemed not reliable.)

In terms of the labour report, sources of demand for mechanical engineers is a combination of expansion (increases in overall staff) and replacement (positions left vacant by retiring or deceased engineers). Nationally, the study projects approximately 2,100 job openings for mechanical engineers per year until 2019. Of those openings, about 825 a year will come from expansion demand while the majority of openings (1,270 or about 60 percent) will need filling due to replacement. From 2020 to 2025, the average number of total job opening is forecasted to fall to about 1,400, largely due to decreased expansion demand.
Provincially, Ontario will lead the nation in job openings, with replacement labour contributing approximately 70 percent of overall demand over the next five years. That percentage is expected to climb to 90 percent of job openings during the latter five years of the forecast, as high expansion demand begins to fall.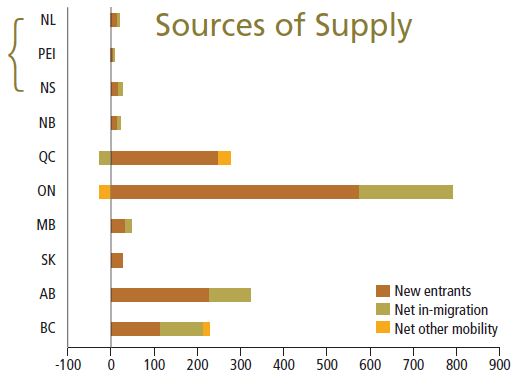 Rather than predict how many mechanical engineers will enter the labour market over the next 10 years, the 2015 Labour Market Report estimates how many engineering graduates, foreign trained engineers entering Canada and job changers will be needed to meet expected market demand. According to the report, more than 3,000 graduates receive a mechanical engineering degree from Canadian universities annually. Of those who choose a mechanical engineering career, about 1,200 will be needed, per year, to fill available positions to 2019. Over that five-year time frame, another 680 mechanical engineers in-migrating to Canada will be needed to keep the labour market in equilibrium.
From 2020 to 2025, the labour forecast projects that in-migration for mechanical engineers will fall off to 175 annually. Broken down, Ontario, Alberta and B.C. will see the largest number of new entrants to the profession as well as the largest number of mechanical engineers from in-migration.

The average age for mechanical engineers across Canada is the mid-40s and is expected to stay that way for the next 10 years, the report forecasts. The one exception is Newfoundland & Labrador, where the average age is currently 37 but will increase to 40 by 2025. Similarly, the average mechanical engineer will get older in Quebec, and less so in Saskatchewan and Alberta. British Columbia currently has the highest average age at 46 but that number is expected to fall to 43 as Boomer engineers retire.
While Engineers Canada's biannual Labour Market Report will continue to be a useful resource for large employers, government policy makers, provincial regulatory bodies and educational institutions to plan the engineering profession's future in Canada, it can be a bit too large in scope and long between releases for the individual engineer.
To fill this gap, Engineers Canada has partnered with the Information and Communications Technology Council (ICTC) to create an interactive website called EngScape to help working
engineers, students, foreign trained professionals and others tailor vast amounts of labour data to their specific needs.
Scheduled for launch early in 2016, the site will feature a comprehensive profile of the 14 engineering disciplines featured in the report. In addition, it will provide up-to-date labour market statistics for that field on a national, regional and local level, including top jobs in-demand, median wages, education requirements, demographics and talent clusters.
For example, a civil engineering graduate might look up the cities and/or provinces where her particular discipline is in highest demand currently while an experienced mechanical engineer could compare the median salaries of British Columbia vs. Alberta or Ontario. Further, a software engineer planning a move to Canada could learn what education and accreditations are expected in various provinces.
"Another exciting feature on the site will be a populated list of engineering jobs open across Canada," says Jamie Ricci, Practice Lead, Research at Engineers Canada. "This pulls from multiple employment sites but will also allow people to filter results by job title, city, province and other parameters. Hopefully, this will make it easier for job seekers to find what they are looking for."
According to Engineers Canada, the new website is slated to go live by the end of the 1st quarter of 2016 and will feature statistical labour data updated on a continual basis.
www.engineerscanada.ca
There's still time to check out today's DEX/MRO Expo at the Canadian Warplane Museum. The show runs until 4pm. Walk the floor and tour Canada's aviation history.
#DEX_Expo #engineering #manufacturing
http://bit.ly/3JKO2Wk
DEX/MRO Hamilton is Tomorrow!!! Don't miss Jayson Myers' keynote with at 9AM plus the free breakfast. Register today or at the event.
http://bit.ly/3JKO2Wk
Register today for the up-coming DEX/MRO industrial tradeshow in HAMILTON on Sept. 20!!
#engineering #manufacturing #DEX_Expo
https://bit.ly/3JKO2Wk
Trudeau announces deal for new electric vehicle battery plant in Ontario
http://www.design-engineering.com/3ijeF
The advantages of high performance linear motors [sponsored]
http://www.design-engineering.com/y1EDY