Tales from the Legends
Should Civil Service Aspirants Get the Option to Sit for an Exam of the Service They Want to Join?
Highlights
The Civil Service Exam template of three-phase selection – Prelims, Mains and Personality Test – has continued from 1979, even though the structure, syllabi, and relative weightage of each of the three components has changed from time to time. The examination draws nearly a million aspirants across the country, and given the logic of the exam, it is bound to leave the overwhelming majority of people frustrated, disempowered and heartbroken at the end of a long-drawn process.
Should India not give civil service aspirants the option to sit for an exam of the specific service they want to join after the Prelims?
FREQUENTLY CHANGING PATTERN OF CSE
IAS Santosh D Vaidya Appointed Secretary To Delhi CM
UP on Top with Maximum Number of IAS
Anusua Dutta Barua Transferred Along with 4 others in Assam
How to Crack Prelims: Hear from the Toppers Themselves
The Change-Maker: Now He's Opening Roads for Them
Empanelment of 55 IAS Officers as Joint Secretary Announced by Central Government
Two IAS transferred in Delhi, Pooja Joshi Becomes Secretary, DSSSB
From Orphanage to IAS: How a Kerala Boy Found His Calling
In 1989, an essay paper was introduced in the Mains exam, and the marks for the Personality Test were enhanced. In 2001, the Civil Services Examination Review Committee, chaired by professor Y. K. Alagh, held that 'the new millennium demanded excellence at every level of governance which required almost total re-shaping and re-structuring of the economic as well as the administrative apparatus of the government'. It suggested that while the 'optional' subject may be continued in the Prelims, the General Studies (GS) paper should be recast as 'Civil Services Aptitude Test' comprising questions on basic awareness, problem solving and 'data analysis ability'. It also recommended the substitution of the optional papers of the Main examination with four compulsory papers – Sustainable Development and Social Justice, Science and Technology in Society, Democratic governance, Public Systems and Human Rights.
The next committee on Civil Service Reforms (the earlier one was called a review committee) was chaired by Purna Chandra Hota in 2004 who suggested that aptitude and leadership tests may be introduced for selection and that probationers may be allowed one month after commencement of training to exercise their option for Services. While the second recommendation was not accepted, the Civil Services Aptitude Test at the Prelims was introduced from 2011.
The new format had two papers of two-hour duration each with a weightage of 200 marks. The first paper, also called General Studies, was based on current events, history of India and Indian national movement, Indian and world geography, Indian polity, Panchayat Raj system and governance, economic and social development, environmental ecology, biodiversity, climate change and general science, art, and culture. The second was the Civil Services Aptitude Test, which assessed the candidate's skills in comprehension, interpersonal behaviour, communication, logical reasoning, analytical ability, decision-making, problem-solving, basic numeracy, data interpretation, English language comprehension skills and mental ability.
However, after an uproar that this was not fair to those whose medium of instruction was not English, it became a 'qualifying' test, and while candidates had to secure 33 per cent marks, these were not to be included in determining the merit list.
In 2013, the number of optional subjects was reduced from two to one and the compulsory papers increased from two to four. The previous two GS papers got divided into three, and a new paper, 'Ethics, Integrity and Aptitude' was introduced. The marks for essay were raised from 200 to 250 and in the subsequent year, aspirants wrote two essays, instead of one.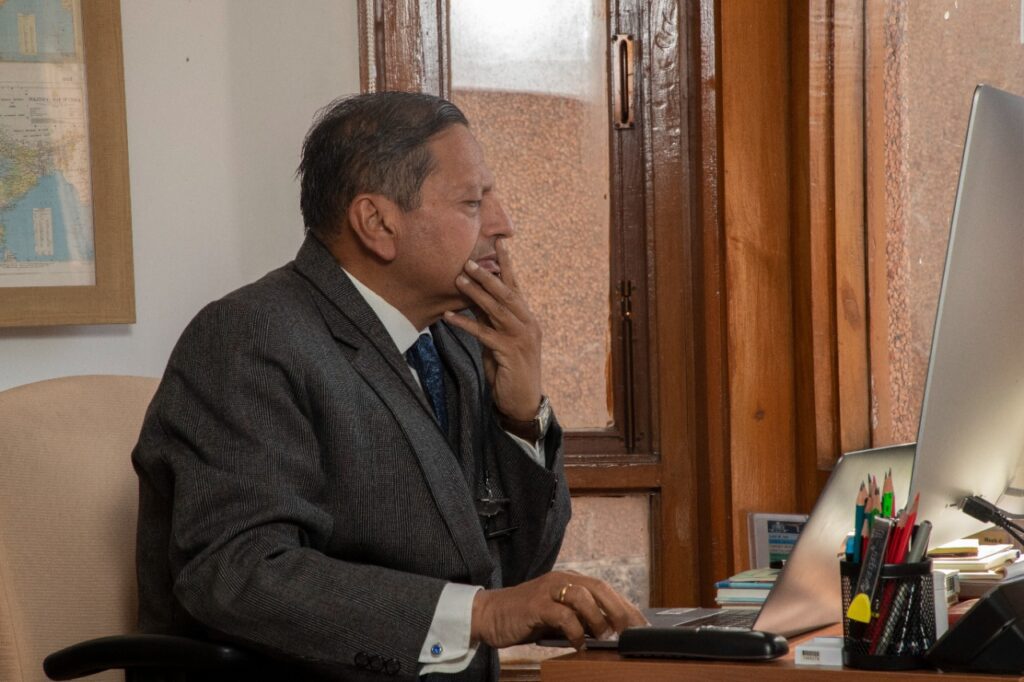 TIME FOR SEPARATE EXAMS?
As things stand today, the Civil Services Mains written examination consists of nine papers, two qualifying and seven 'ranking' in nature. The range of questions vary from just one mark to 60 marks, 20-word to 600-word answers. Candidates who pass the qualifying papers are ranked according to the marks, and a selected number of candidates are called for the personality test by the UPSC.
In 2012, the Parliamentary Committee on Home Affairs did suggest a separate examination for the Indian Police Service (IPS) to attract candidates with the right 'attitude and aptitude' so that the quality of service is not compromised. The views of UPSC, Sardar Vallabhbhai Patel National Police Academy, and state governments was sought. As only six state governments favoured the idea, the proposal was dropped. While the Ministry of Home Affairs did hold a limited competitive exam for filling vacancies in the IPS from members of state police and Central Armed Police Forces in 2012, the Central Administrative Tribune (CAT) directed the UPSC not to declare the results. The government did not press the case and in fact, opposed the Limited Competitive Examination (LCE) when the matter came up in the Supreme Court.
SERVICE-SPECIFIC PAPERS CAN BE INTRODUCED
However, while it is true that from the perspective of the aspirants it is better for them to take a common exam, is it fair to any Service to induct officers who never wanted to join it in the first place? Would it not make sense if the Prelims and the compulsory papers for the Mains were common to all services, but service-specific papers introduced for the IAS, IPS, IFS and Revenue Services with focus on public policy and governance, criminal law and internal security issues, international affairs, and tax policy respectively? There are certainly pros and cons if this suggestion were implemented, but is it not high time to discuss the issue threadbare?
Meanwhile, the UPSC has announced that it will also recruit 150 officers for the Indian Railway Management Services or IRMS (constituted by the merger of the IRTS, IRPS and IRAS), thereby increasing the number of vacancies from 861 to 1,011. So, while is good news for the Civil Service Exam aspirants this year, whether or not it is a step in the positive direction in the long run is still a question mark.
(This column is by Dr Sanjeev Chopra, Distinguished Fellow, USI, New Delhi, Fellow of the Royal Asiatic Society of GB & I, London, HRA, LMFSAI, Harvard University, Historian, Columnist, and Festival Director, Valley of Words: International Literature & Arts Festival, Dehradun  www.valleyofwords.org)
Tags
END OF THE ARTICLE
NEXT STORIES
Highlights
In this column, former LBSNAA Director Dr Sanjeev Chopra traces India's journey from managing to get the Indian Civil Service (ICS) centre from UK to Delhi to National Testing Agency now considering extending JEE and NEET exam centres to foreign countries.
This is not just for the benefit of Indian students abroad, but also for foreign students who wish to study engineering and medicine in India.
Dr Chopra writes that it is interesting that this development is taking place 100 years after the colonial government accepted the long-standing demand of the Indian nationalists for the simultaneous examination for the ICS.
Highlights
Koderma district, one of the most backward ones, has created history by becoming the first-ever district to secure the first rank among all the districts of Jharkhand by performing exceptionally well in both the board exams (10th and 12th, science). District administration's initiative called Project RAIL (Regular Assessment for Improved Learning) had a major role […]
How A Young IAS Officer Turned a Mizoram District from Water Deficient to Water Sufficient
Sonu Sood Launches Sambhavam 2, UPSC Coaching That's Already a Hit
Meet the IRS Officer Behind India's PAN Operations and Instant e-PAN
Quitting IAS to Provide Free Coaching to UPSC Aspirants At Ganga Ghat
IAS Officer Explains Why Even After Much Effort, Many Fail to Clear Prelims of UPSC CSE
Highlights
Retired IAS officer and former Director of LBSNAA, Sanjeev Chopra, writes that India must train the constables in law, forensics, and technology also.
Inspiring Story of Samyak S Jain: Visually Impaired, Secured AIR-7 in UPSC CSE 2021
Women Rules UPSC CSE-2021 Results, Bag Top 3 Ranks!
100 Candidates Mentored by IPS Officer Mahesh Bhagwat's Team Get Selected in UPSC CSE 2021
The Top 10 of UPSC CSE 2021: A Cut Above the Rest, Know How They Did It!
Language No Barrier in CSE: Meet Ravi Kumar Sihag, UPSC Topper in Hindi Medium With Air 18
Exclusive Interview With UPSC Topper Shubham Kumar, Shares Valuable Tips On How to Crack Civil Services Exam
'If I Can Become an IAS Officer, Anybody with Willpower Can'
Taking IAS Officer Father's Legacy Forward, Shubhankar Pathak Aces UPSC CSE 2021 in Maiden Attempt 
UPSC CSE 2021: Priyamvada Mhaddalkar Tops Maharashtra with AIR-13
UPSC CSE 2021: Ankita Agarwal's Journey from AIR-239 in 2019 to AIR-2 in 2021
A Daughter Who Fought till Last for Her Father's Dream, Cracked UPSC CSE 2021 in Sixth Attempt
UP Farmer's Son On His Way to IAS After Securing AIR 6 in UPSC CSE 2021
"Civil Service is Pro People, That's Why It Fascinates Me," Says Yasharth, AIR 12 Rank Holder in CSE 2021
Answer Writing, Self-Notes and Group Sessions are the Keys to UPSC CSE 2021 Topper Shruti Sharma's Success
Flaws in the System Triggered this Doctor to Get into Civil Services, and She Did It in Style with AIR 19 in UPSC CSE-2021
Ishita Rathi, Daughter of Police Couple, AIR 8 in UPSC CSE-2021 with Economics as Optional
UPSC CSE 2021: Performance of Muslim Candidates Worst in a Decade
Highlights
Retired IAS officer of 1982-batch and Uttar Pradesh cadre, Rohit Nandan, took to social media to give his views on two recent incidents involving lady IAS officers.
The two officers are Roshan Jacob and Harjot Kaur; while the former was in news for publicly breaking down in a hospital, the latter for her comments in an interaction with girl students.
Mr. Nandan backed up his own comments with an anecdote from his own IAS journey – an incident that had made him cry, too.
Assam: IAS & ACS Officers Shifted, IAS Simi Karan As SDO (Civil), North Salmara
Uttrakhand: Two IPS Women officers Got Promotion, Government Issued Orders
K Sanjay Murthy Given Additional Charge of Secretary, D/o School Education & Literacy
Jharkhand: 13 IAS officers Transferred; IAS Officer Rahul Sharma Made Joint Secy., Ministry of AYUSH
IAS Officers Transferred in Karnataka
Maharashtra: 21 Districts's Superintendent of Police Transferred and Posted, IPS Somay Munde Appointed as New SP of Latur
Rajasthan: 13 IAS and 2 IPS Officers Transferred; Vishram Meena IAS Posted as Commissioner, Municipal Corporation, Jaipur Heritage
Major Reshuffle of IAS Officers in GoI, ACC Approves Appointment of Several IAS Officers
Highlights
In this column, Sanjeev Chopra writes about the writings of the officers who first broke the glass ceiling and joined the ranks of the administrative elite in our country.
Memoirs written by the ICS officers have become classics and standard reference material for the concerned period.
A scholar-administrator writes from his lived experience as he is the witness to an era.
54 IAS Officers in J&K Deployed In Different Districts Under the 4th Phase Of Back To Village Prog
20 IAS Officers Empanelled as Additional Secretaries at the Centre
H Rajesh Prasad Given Additional Charge in J&K
IAS Pradeep Singh Kharola Receives Posting
Uttar Pradesh: 70 IPS Officers of State Cadre Will Be Promoted in 2023
Senior IAS Officer Anand Mohan Sharan Gets Addl. Charge of Addl. Chief Secretary, Civil Aviation Department
IAS Officer Amneet P Kumar Posted as In-Charge of Hisar District
Thoothukudi Imparts Trauma Care Training to Over 6,000 Volunteers and Students
Highlights
Indian Masterminds' special feature on World Tourism Day 2022.
Choose Your Optional Wisely: Manuj Jindal, AIR 53, CSE 2017
Good Answer Writing is the Key to UPSC Success
How did IAS Shubham Bhaisare crack multiple exams within a few years?
Failures Did Not Deter Him From His Goal, Scored AIR-67 in Third Attempt and Fulfilled His Dream of Becoming an IAS Officer
The IAS Anti-Corruption Crusader Who Didn't Hesitate to Fight Against His Own Fraternity
The IPS Officer Who Ensured Sabarimala Stays Clean and Pure
The Changemaker Who's Given Policing A New Name
Driven By Work, Fueled By Passion: Life Of An All-rounder IAS Officer
Inform, Inspire, Influence
@2021 Indian Masterminds. All Right Reserved.